A Short Guide: How to Improve Pronunciation with British Series by
Magdalena Osiejewicz
6th December 2018
1 comment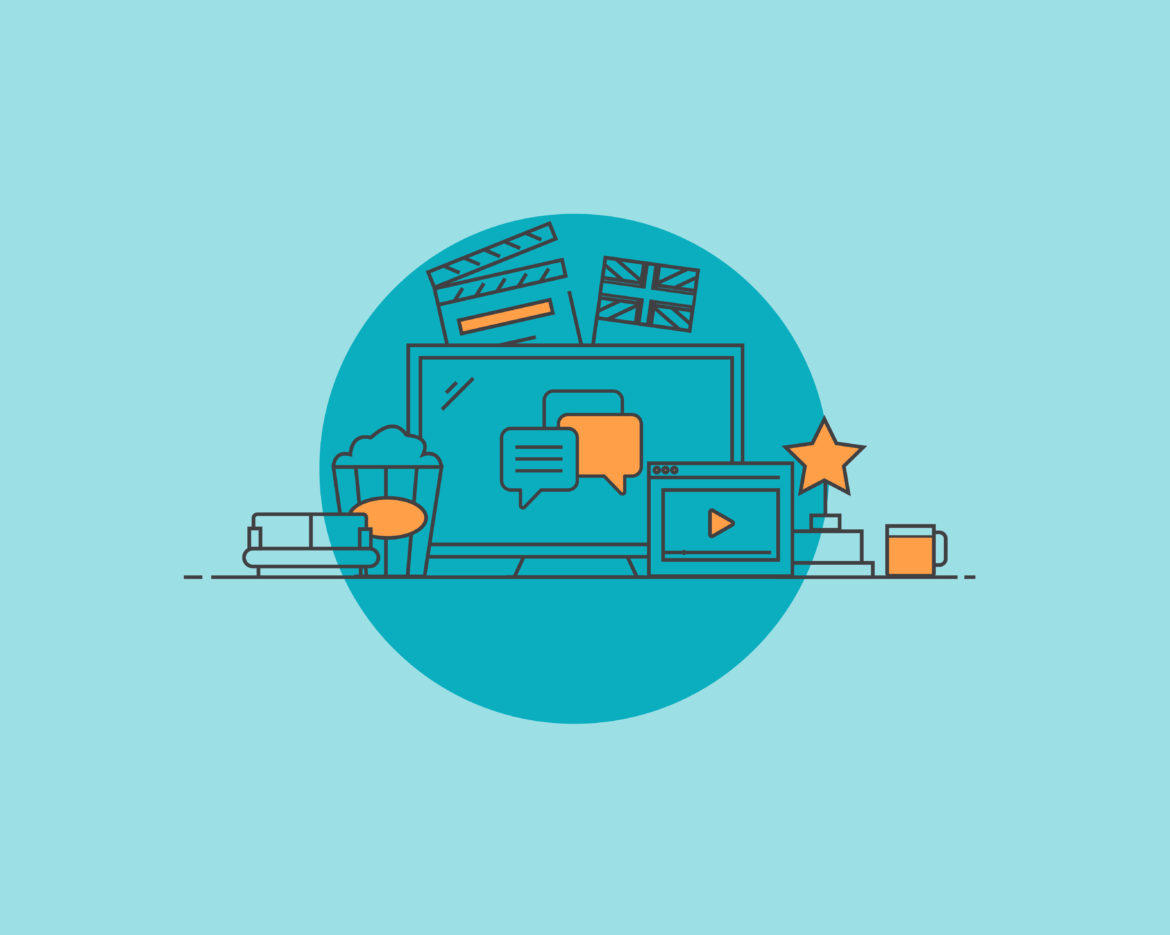 Many people dream of sounding like a native speaker, especially with a British accent. One of the things that you can do to speak more like someone who was born in an English-speaking country is to take an English Pronunciation Course.
If you're not ready to go to one of our schools just yet but you keep wondering how to improve pronunciation in English, I have another idea for you. Have you ever tried watching any British series?
The English people are known to produce marvellous TV entertainment that you can use for your own purpose. Slowly but surely by repeating the words and phrases, you'll become more aware of how you say things and your pronunciation will change.
Are you ready to get started? Here's a list of 10 British series to begin with!
1. Improve English Pronunciation with Sherlock
Sherlock Holmes is probably the best-known fictional detective in the world. The newest version of his adventures with Benedict Cumberbatch and Martin Freeman is an example of great TV entertainment. Both characters speak clear British English that will be easy for you to follow.
The numerous secondary characters in the series will expose you to a variety of local accents, helping you with your listening comprehension skills.
2. "Posh Up" Your English with Keeping Up Appearances
Hyacinth Bucket is one of the most entertaining British TV characters. She insists that her surname should be pronounced "Bouquet" and considers herself very posh. Most of the time she exaggerates the "proper" English accent to make a point of her alleged high social standing. This series is entertaining but most importantly, it's a great source of pronunciation practice.
3. Sound More British Thanks to Fawlty Towers
"Fawlty Towers" is a creation of one of the members of the famous Monty Python group, John Cleese. It's a very funny series and especially the main character, Basil, may help you improve your English pronunciation. The episodes are short and there are only 12 of them in total but it's a true gem.
4. Speak English Like a Lady with Downton Abbey
Set in England between 1912 and 1926, this series will introduce you to the kind of English that's very proper but a bit old school. Bear that in mind when working on your pronunciation. It's a good introduction to the English accent but you don't want to sound exactly like the characters.
5. Repeat After Mark from Peep Show
"Peep Show" has a cult following in England and abroad. It's considered one of the funniest British series ever made. The adventures of Mark and Jeremy are hilarious and particularly Mark has an accent which is easy to imitate.
6. Work on Your English at The Office
This mockumentary is set in an office in England. It'll expose you to a variety of accents and will help you improve your English pronunciation. You'll also get some more exposure to the famous British sense of humour. There's an American version of this series so make sure that you buy or rent the right one.
7. Learn English Accent with The Crown
What could teach you the British English accent better than listening to a fictional rendition of the Queen of England herself? "The Crown" will provide you with a lot of exposure to received pronunciation (RP), also known as the Queen's English. An additional perk of watching it is that you'll learn a lot about Queen Elizabeth II. If you're not ready to sound exactly like the Queen yet, enrol in an English Pronunciation course first.
8. Investigate Your Accent with Agatha Christie's Poirot
This British series is a great treat for the fans of detective stories. "Agatha Christie's Poirot" ran for over twenty years. What's interesting is that all episodes are based on Agatha Christie's novels and short stories featuring the famous detective. From the linguistic point of view, this show presents you with a multitude of accents (with a slight bias for posh English), many of which you may want to copy.
9. Judge Your Pronunciation While Watching Law & Order: UK
Did you know that the famous American show had a British equivalent? Usually, it's a British series, which comes first with Americans remaking it. Here the situation is reversed. You'll hear a lot of formal English in Law & Order: UK. It should be easy to follow and learn from.
10. Have a Look at How You Sound in Black Mirror
This dystopian TV series focuses on the dangers of technology. It's really good, albeit quite dark. In fact, it's so good that only the first two series will help you with improving your British accent. After the second series it was bought by Netflix and the characters started to sound American.

Improving your English pronunciation with British series will be a lot of fun. The process of learning how to sound more like a native speaker isn't fast. However, with enough practice and some help from an English Pronunciation course you'll definitely get there.