Watch Halloween Movies to Learn English by
Magdalena Osiejewicz
31st October 2019
1 comment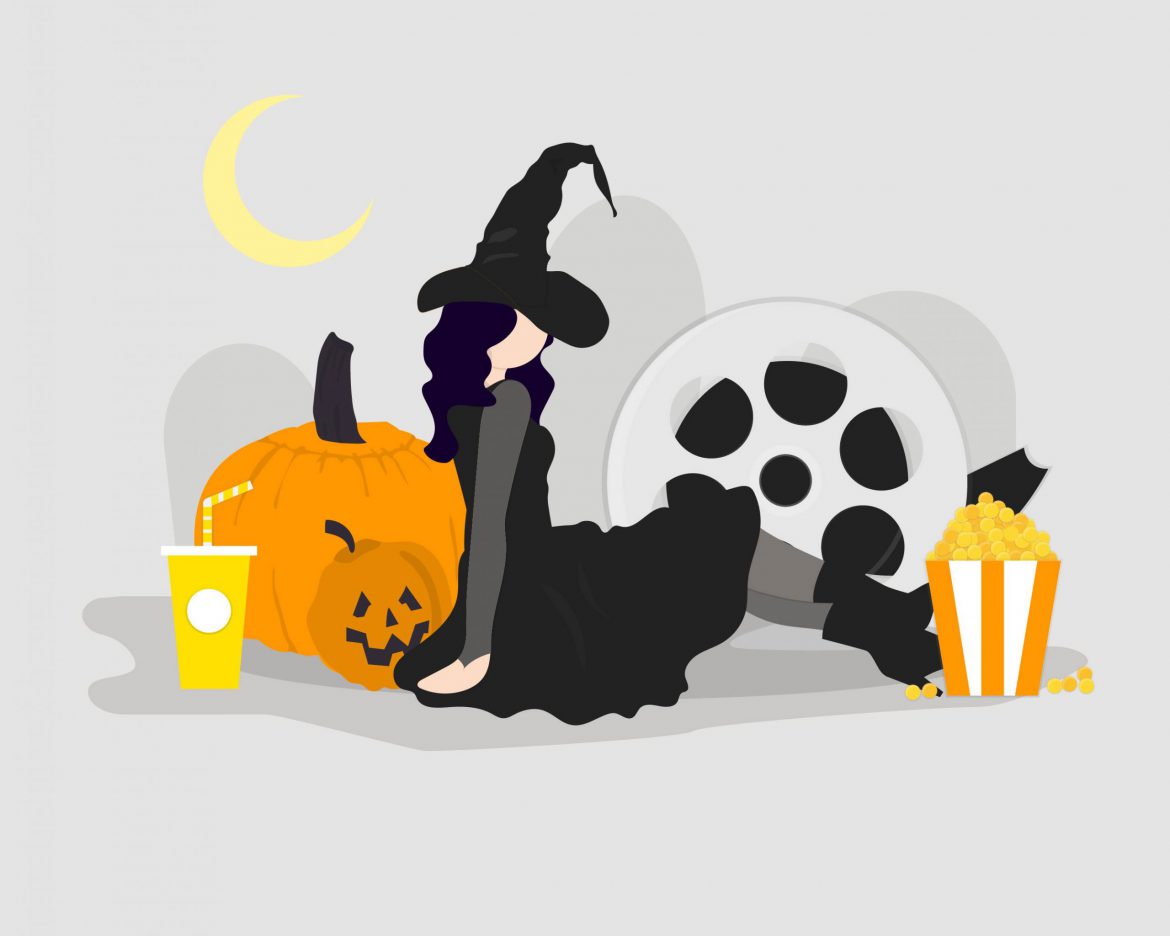 When you study abroad, you have the opportunity to experience local holidays and celebrations. A particularly fun event for those who study in the UK and in the US is Halloween.
Halloween activities include telling scary stories, attending themed costume parties and watching horrors. In the above-mentioned countries, all that is done in English.
If you're not going to be in one of our schools for Halloween, you can still learn English, while watching Halloween movies! Here's a list of scary movies to watch with your friends:
1. Halloween
"Halloween" is the title of an old-school horror movie from 1978 as well as the name of the whole franchise. This series consists of eleven movies.
If you like stories about fictional serial killers, you don't have to look any further for a movie for your Halloween entertainment.
What's scary: Michael Myers, the serial killer
2. Friday the 13th
"Friday the 13th" is another horror franchise. The first movie in the series was released in 1980 due to the popularity of the original "Halloween" film.
You don't want to watch such old movies to work on your English? No problem! This series consists of 12 movies and 3 of them were released after the year 2000.
What's scary: Jason, the serial killer
3. A Nightmare on Elm Street
Another classic franchise is "A Nightmare on Elm Street" with "only" 9 movies to its name. They're not any less scary than the previous ones I've mentioned. Will you dare to stay awake and watch them all?
The protagonist of this series, Freddy, loves to play games. Do you? Check our blog post about best mobile games to practise your English.
What's scary: Freddy Krueger, a serial killer who only comes to you in your sleep
4. Pet Sematary
It's a perfect movie to watch for the fans of the king of horror, Stephan King and not only. Opt for the old version or the fresh remake released this year, depending on your preferences.
Both movies are super scary and take a legend about an animal cemetery to the next level. Creepy children, cats and more await you with this Halloween movie.
What's scary: The undead
5. Get Out
For people who like horror movies that are a bit more ambitious, Jordan Peele's "Get Out" is a great choice. This movie has been referred to as "social horror" and "elevated horror". Why? You'll have to watch it to find out. I promise it will make you jump off your seat.
What's scary: People
6. It
"It" is another horror on our list that was based on a Stephen King's novel. It's been recently turned into two movies with a number of famous American actors in it. Due to the combined length, it's a perfect choice for a Halloween movie marathon.
Do you prefer watching series? Read our blog post with the list of 5 Netflix TV shows to help you learn English.
What's scary: A clown
7. Annabelle Comes Home
Many horror movies make something very ordinary scary. This is certainly true for "Annabelle Comes Home", which is a movie about a possessed doll. It doesn't sound terrifying to you? Let's see what you think while watching it!

What's scary: A vintage doll
8. Hereditary
Ari Aster along with Jordan Peele are among the most interesting horror movie directors of our times. "Hereditary" is a truly terrifying mixture of human drama and supernatural themes. It stars a great actress and one of the horror movie veterans you may remember from the "Sixth Sense", Toni Collette.
What's scary: A demonic possession.
Have you chosen the movies you want to watch for Halloween from our list yet? If you're more of a podcast person, there's a number of podcasts to help you with your English.
Are you ready for a real adventure? Come join us at LAL to work on your English and experience local traditions such as Halloween.