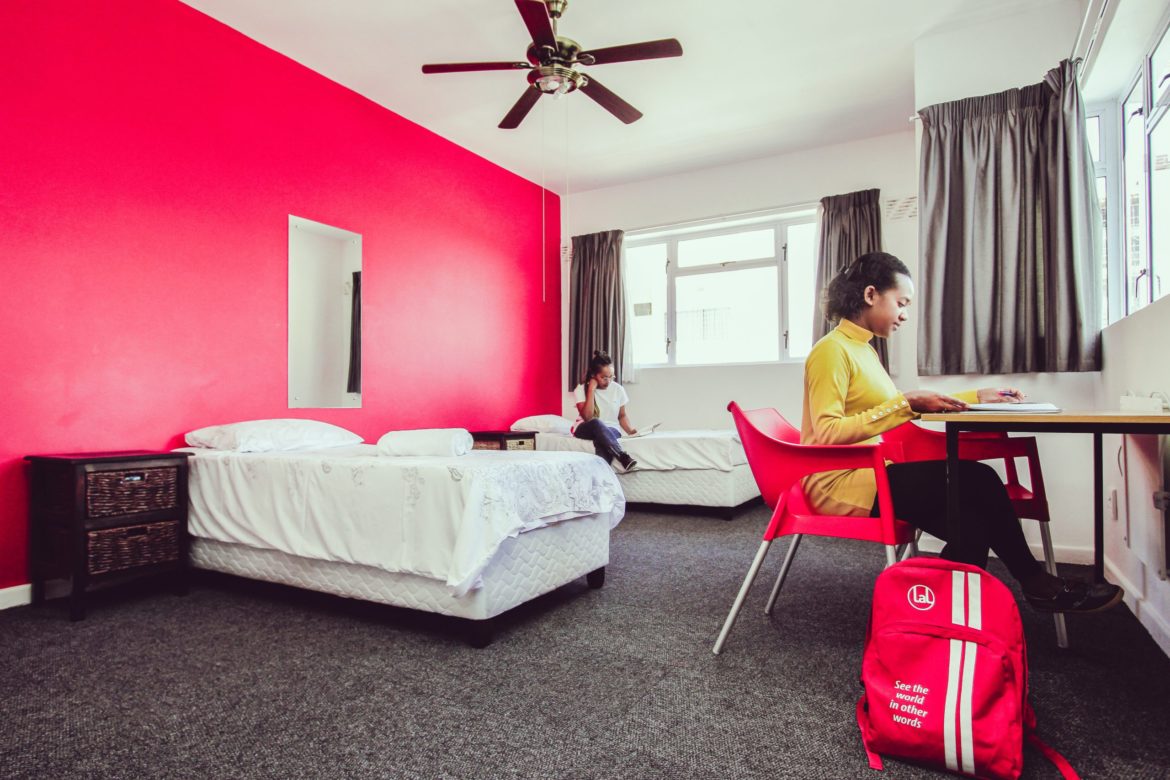 When you study at LAL School in Cape Town, South Africa, you will be sharing a small campus and student accommodation with other students. It is normal for tensions to sometimes arise in these kinds of situations, but there are some things you can do to make your time away from home easier for everyone. In this article, we discuss a few pieces of dorm room and campus etiquette advice that we feel is important for the comfort of all our students and staff members.
Dorm
room
etiquette
1.
SET
GROUND
RULES
When you meet your new roommate for the first time, it can be helpful to set some ground rules right at the beginning, rather than bringing issues up as they arise over time. For example, ask your new roommate what time they like to go to sleep, what kind of environment they prefer to study in, if they'd like to share food or prefer to buy their own. Having these kinds of conversations, and working on solutions for differences, when you're both excited for the new journey ahead is much more effective doing so later down the road the night before a test.

2.
ALWAYS
ASK
ABOUT
THEIR
DAY
This is one of the best ways for strangers to start getting more comfortable around each other. Ask your roommate how their day was. Listen carefully to what they say, and ask more questions if they bring up their interests and passions. You will discover what you have in common and build up healthy rapport. They will ask the same of you as well. This will also give  you both the opportunity to find out if either of you needs help with anything.
3.
NEVER
ASSUME
Even if your new roommate is the politest, most generous person on earth, you should still never make assumptions about your shared space. Don't borrow their things, move their things,
eat their food, invite guests into the room or clean up after them. Always ask first, even if they have said 'yes' before.
4.
PRIVACY
AND
SECURITY
When sharing a space, it's important to be aware of your roommate's sense of security. For example, if you're comfortable leaving your room unlocked, don't assume that they are as well. Always keep your door locked and close the windows when you leave the room if you are the last one in there. You also need to respect your roommate's privacy. Don't look through their things or devices, and don't let your friends do so either if they're visiting your room.
5.
BE
RESPECTFUL
All
student
accommodations
want
their
students
to
feel
comfortable
and
safe,
and
to
make
themselves
at
home.
But
you
also
need
to
be
mindful
that
you're
not
living
by
yourself.
You
need
to
clean
up
after
yourself,
pick
up
your
dirty
laundry,
take
care
of
personal
hygiene
and
don't
leave
dirty
dishes
lying
around.
Being
respectful
to
your
shared
space
isn't
only
about
cleanliness.
You
should
also
be
careful
not
to
disrupt
others
when
they
are
studying,
sleeping
or
catching
up
with
their
families
back
home.
Campus etiquette
1.
FOLLOW
THE
RULES
Every campus, LAL School included, will have campus rules. While some of these rules will seem frustrating, they are there for a reason to keep students safe and happy, and to create an effective learning environment. Rules are simply restrictions that are put in place to ensure that everyone gets as much from their experience here as possible.
2. SMARTPHONE MANNERS
If you're in class or in a group study session, don't text and check your phone throughout. You will take more in if you're an active participant when learning. This means that you will need to listen and engage. You should also keep your smartphone on silent in the classroom, the library, the dining room and at night in your dorm room.
3. KEEP THE SPACE CLEAN
This is especially true when it comes to shared bathrooms and kitchens. Try to leave these areas as clean as you found them, so that they can be used comfortably by other students. Rinse toothpaste, shaved hair and makeup off the sides of the basins, don't flush sanitary products down the toilets and mop up excess water on the floor. In the kitchen, you should wipe down and wash all the utensils you used, so that they are ready to be used by the next person. Don't leave dirty dishes around in the kitchen, dining room, living room or your dorm room as this can attract pests and is unpleasant for other students. The same advice applies for other shared living areas. Try not to leave your things in the common rooms and put library books away once you've finished using them.
4. RESPECT YOUR FELLOW STUDENTS AND TEACHERS
You should never tease or bully fellow students or show disrespect to your teachers. Remember to also be respectful of other people's belongings and campus property. When you're sharing spaces with other people, you also need to make sure you practice good hygiene.
Learn more about campus life at LAL, as well as explore our campus accommodation?