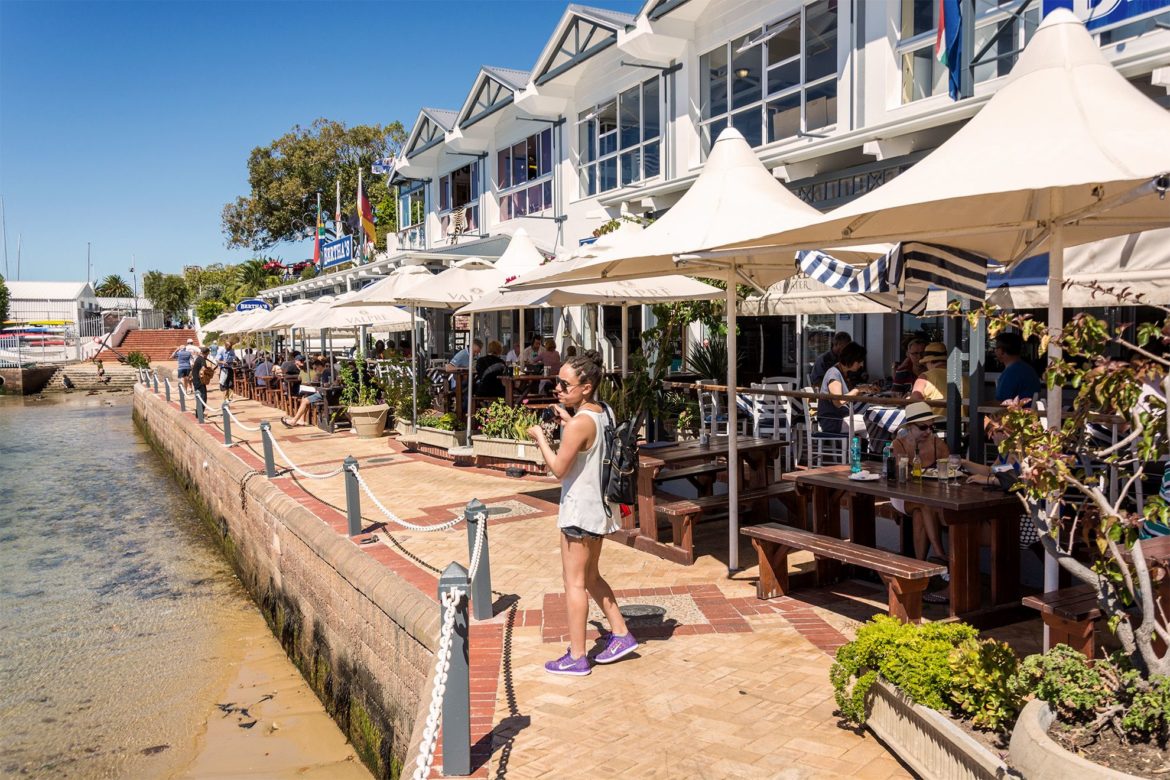 When you're studying with us at LAL School in Cape Town, you'll have plenty of planned activities and excursions to keep you busy most of the time. But during your down time, you and your new friends might want to head out into the beautiful city to find hidden gems. Explore 10 unique things to do in Cape Town that are budget-friendly and will give you an amazing experience of how locals spend their free time here. 
1. Honest chocolate and the secret gin bar
Honest Chocolate is an institution in Cape Town. Their cocoa beans are ethically sourced, and they are made locally from bean to bar. They also sell vegan versions of all of their products. While you can buy their bars of deliciousness in almost any supermarket, it's worth it to visit their cafe. Stop by in the morning for a chocolate croissant or chocolate bran muffin, or visit for dessert in the evening after dinner for truffles and chocolate milk or hot chocolate. 
But another secret that makes Honest Chocolate great is the gin bar hidden in the back. With a massive gin and cocktail menu to choose from, relax in the open-air courtyard with fairy lights, good company and blankets when it gets chilly. 
2. Visit the Eastern Food Bazaar
Feel like going out for dinner, but don't want to spend a small fortune? The Eastern Food Bazaar is well worth a visit. They're budget-friendly, the portions are huge and every meal option is packed with flavour. You can enjoy Turkish kebabs, street-food snacks and sides, a wide range of tandoor dishes and curries from 'Bombay to Bo-kaap'. 
It's also a fun experience. Walk through the bazaar and look at all the menus, deciding what you'd like. Then you visit the cashier, place your orders and return to each counter to collect what you ordered from each menu. Find a table to eat amidst the thrum of the bazaar, or grab a takeaway to enjoy together back at LAL. 
3. Learn to cook in Bo Kaap
There are all kinds of Cape Malay cooking lessons available throughout Bo-Kaap, depending on what you love to eat and how much time you have. You can learn to make everything from koesisters and roti, to Cape Malay curries and snacks. This is a very unique South African experience, as you will cook in the homes of the people who live in Bo-Kaap, and eat the meal you prepared together. It's a special and unmissable experience. 
4, Taste unbelievable ice cream with local flavours
You're in for a real treat at Tapi Tapi. This unique ice cream parlour focuses its flavours on foods and ingredients from Africa. They are using ice cream to show new friends and cultures that these are not flavours you need to shy away from, and that they're delicious when prepared correctly. Think of ice cream that contains edible clay, fresh vanilla, dark chocolate, roasted pumpkin, granadillas and caramelised plantain. But it doesn't stop there! Many of their ice cream flavours are also inspired by entire dishes. For example, they have an amagwinya (deep-fried dough) and fermented root ice cream. If you're visiting from another country in Africa, you're likely to find the taste of home here, and if you're not, get ready to delight in something new! 
5. See the street art in Woodstock
Woodstock is a suburb like no other. You'll find stunning hotels, factories and industrial parks, trendy watering holes, family homes and small creative businesses, all within a small amount of space. Once a seaside resort, Woodstock became increasingly industrialised after the area lost its beach when the land was reclaimed, pushing the sea back. Over the past decade, cheap property made Woodstock a good area for businesses to pop-up. With so many people working in the area, trendy restaurants and coffee shops came next. These were followed by people wanting to live in what became the creative hub of the city. 
The problem was that there was still a lot of crime in the area, a hangover from when the suburb was fully industrial. And that's where street art came in. The Woodstock landscape is constantly changing as different artists 'exhibit' in the area. The purpose of this was to get more people reclaiming the streets along them to see work by their favourite local artists. And you can do the same. If you're nervous, you can go on a guided tour with a guide who has in-depth knowledge about the area and the artists who are working to ensure Woodstock is a constant centre of change and development. 
6. Experience First Thursday
Another experience for art lovers! First Thursday happens on the first Thursday of every month, and it is an initiative to showcase the cultural talent of Cape Town. Galleries, theatres, makers, creatives, bakers and chefs all stay open late and for free. This gives people who work or who are on tight budgets the opportunity to spend time hopping around the Mother City, never knowing what each doorway will have in store. Many restaurants and bars will also have excellent offers for First Thursday goers. You can simply head out and see where the trail of open doors leads you, or you can do some research and plan your route based on what you're most interested in seeing. 
7. Go to Nude Foods
Sustainable grocery shopping never looked so good as it does at Nude Foods. They are a single-use packaging-free supermarket with a lot to offer. Grab a glass jar (pay now and bring it along next time and only pay for your food) and fill it with breakfast cereal, sweet and savoury snacks, shampoo, body lotion, laundry detergent, olive oil, honey, peanut butter, the list goes on! If you get there early, you might also be able to grab the freshest seasonal produce and homemade bread. Their kombucha on tap is also a must-try. 
8. Get fish and chips in Simon's Town
Whether you drive or go by taxi or train, you haven't been to Cape Town until you've eaten fresh fried fish and chips on the docks in Simon's Town. It's some of the best eating in the world. Choose a shop depending on whether you'd like to sit down and enjoy a glass of local wine with your meal, or you'd prefer to grab-and-go, eating your newspaper-wrapped spoils while walking along the harbour. And don't worry, you'll find plenty of vegan and vegetarian options along the way too. 
9. Go to the movies Cape Town style
Running for over 40 years, The Labia is the oldest independent theatre in South Africa. Their main focus is in art cinema. Get there early and relax on their glittering terrace sipping G&T slushies and the pizza, or other take-out you brought with you, while you wait for your movie to start. In addition to more creative slushies, they also have a massive variety of snacks available, as well as homemade popcorn. While going to the movies is a great group activity, going to The Labia solo is the perfect activity for evenings when you'd like some time to yourself. 
10. Take a rescue dog on a picnic
Step 1: Follow Paws-A-While on Facebook! These amazing humans host regular beach promenade picnics in Sea Point to raise money and awareness for dogs looking for forever homes. It also gives the dogs a chance for some much-needed fun in the sun and human interaction. This activity allows you to give back while seeing the sights in Cape Town. On the day, you'll take one (or more!) adoptable pooches for a seaside walk. After that, grab some snacks from one of the event vendors for you and your furry guests, lay out a blanket and enjoy your picnic together.  
Are you ready to learn English or improve your English skills in a city that has regularly been described as one of the most beautiful in the world? Register at LAL today!