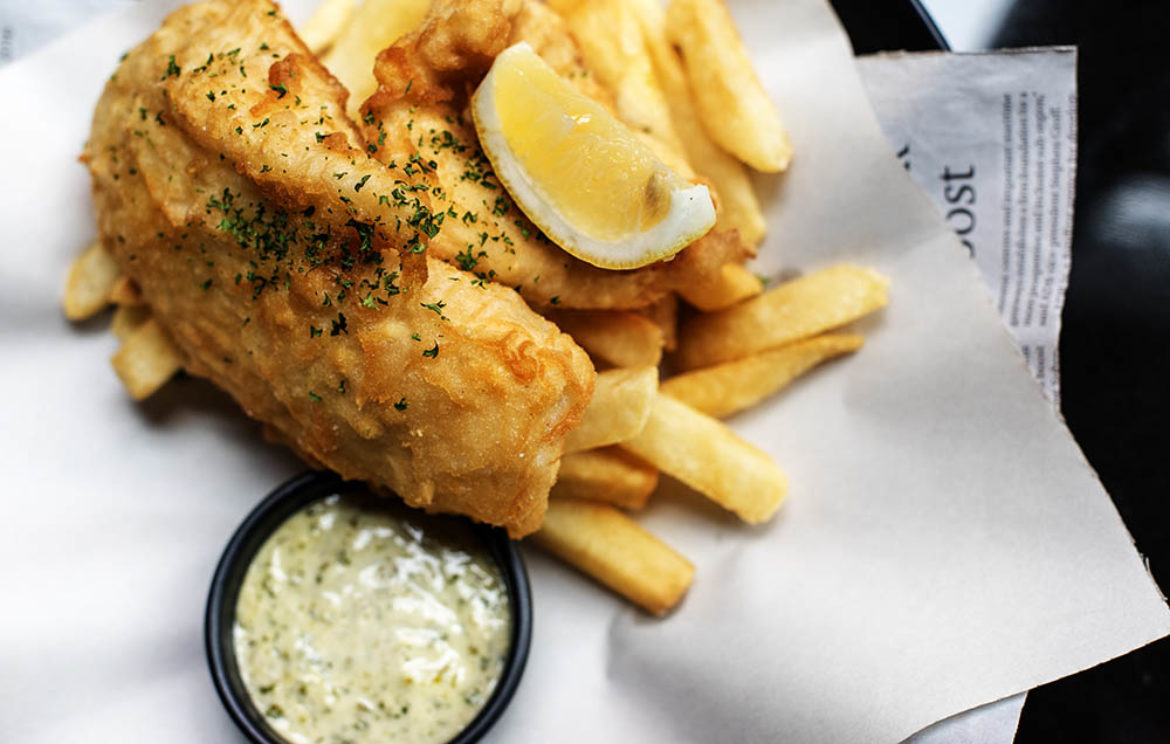 If you've done your research and decided that Cape Town is the destination for you, you probably already know about some South African food. The classics include braais, milk tart, shisa nyama, biltong, mielie meal and Amarula. These are available all over South Africa, and since you're visiting Cape Town, we hope to give you a taste of what's local in this part of the country. Here are six local foods in Cape Town that you can't miss out on when you study with us. 
Fish and tjips (chips)
Are you even at the beach in Cape Town if you don't eat fish and chips for lunch? While there may not be a strong historical tradition for fish and chips here like the local chippy in England, it will be some of the tastiest and freshest in the world. You will find most of the beach in Cape Town lined with locals selling seafood, but the simplest is always everyone's favourite. 
Most of the fish sold along the coast is freshly and sustainably caught early that same morning and features many favourites you can only find in South African seas. Hake is the most popular choice, found only in southern hemisphere oceans. If you want more depth of flavour, opt for kingklip or snoek.You can find snoek between Cape Town and Australia, but kingklip is endemic to South Africa. 
Grab the battered fish of your choice from a hole-in-the-wall vendor or from the side of the road, and enjoy it with a side of slap chips. They are cut bigger than fries and aren't crispy, allowing them to soak up all the salt and vinegar you pour on top. You will get it all bundled up in a piece of yesterday's newspaper to eat on the go as you explore the beautiful beaches, bays and harbours that line the coast.  
Gatsby 
A gatsby in South Africa is a very decadent sandwich, and everything about them is great. It was invented by shop-owner Rashaad Pandy in 1976 who wanted to serve the workers renovating his store something quick and convenient for lunch. Using what he had on hand, he filled bread rolls with slap chips, sausage and atchaar (a spicy pickle). It was such a hit that one of the workmen described it as a 'Gatsby smash', inspired by The Great Gatsby film that was showing at the local theatre at the time. 
The name stuck, Rashaad began selling them at his store and they've been a South African institution ever since. While the traditional is the best, you can also find vegan, healthy and fine-dining versions across Cape Town. They're easy to eat, they're extremely cheap and locals swear that they will get rid of a hangover asap. 
Bunny chow or kota 
The bunny chow originated in Durban shortly before World War II. Migrant Indian workers farming the sugar cane plantations at the time needed endured long working hours with short breaks. They needed to take something to eat with them, and it needed to be able to give them energy, keep them warm and be eaten quickly during a break. They started putting vegetable curry in hollowed out government loaves (unsliced bread) to keep it warm and prevent it from leaking. They could also eat it on the job if they needed to. 
This idea quickly spread across South Africa for its incredible convenience amongst labourers. In Johannesburg it was renamed the kota (only a quarter loaf) and was filled with meat and chakalaka (a spicy relish introduced to the area by immigrant miners from Mozambique), and in Cape Town, you will find them filled with Cape Malay curry, which is more fragrant than hot when compared with Durban curry. 
Traditionally vegetarian, you can get a bunny with meat added, as well as even more of those slap chips. And if you really want to eat it like a local, be sure to ask for the grated carrot salad on the side. 
Bobotie
Much like the bunny chow, the name of this dish is shrouded in myth and no one really knows why they are called what they are. The first bobotie recipe we have comes from a Dutch cookbook from the early 1600s. It consists of layers of meat and grains, topped with a savoury egg custard. The Dutch brought this recipe with them to South Africa, where it was quickly adopted by Cape Malay slaves who reformed it by adding all the flavour we enjoy in it today. 
They added their unique blend of spices, dry fruit for sweetness and an egg-custard-coated bread topping to keep all the heat and flavour locked in. It is most often served with yellow rice (rice cooked in turmeric). It has become an incredibly flavourful dish loaded with complexity. If you're a fan of fusion food, coming together perfectly, bobotie is the dish to try. It's also an excellent option for people who don't like food that's too spicy, but want to get a taste of the Cape Malay flavour palate. 
Koesisters
In Cape Town, you get koeksisters and koesisters. Koeksisters are a syrupy braided doughnut of Afrikaans origin sold all over South Africa. But you will struggle to find a Cape Malay koesister anywhere outside of Cape Town, and they are one of the city's must-trys. 
A koesister is a ball of yeasted dough that is flavoured with sweet aromatics like cinnamon, ginger, aniseed, cardamom and citrus-peel powder. The balls of dough are deep-fried until almost cooked. Then they are boiled in syrup until cooked through and rolled in desiccated coconut. 
They aren't as sweet as they seem and are perfect at breakfast with a cup of coffee. The first Sunday of September every year is World Koesister Day (that's how good they are). If you are with us here at LAL at this time, you'll find koesister competition all over the city, where you can take part in tastings and classes. Most restaurants will be serving koesister breakfasts, koesister lattes, koesister ice cream and so much more. It's definitely a festive day and delicious treat you won't want to miss. 
Apricot jam 
South Africans are obsessed with apricot jam. While apricots are originally from the middle east, the trees love the hot and dry summers and rain-filled winters of Cape Town. You will find an apricot tree in most gardens and putting apricot jam in everything is a quirk that transcends culture differences across the country and confuses tourists. 
We don't know where exactly the obsession comes from, but locals like to say it's because we grow the best apricots in the world and then we use them to make the best apricot jam in the world. Many apricot jams outside of South Africa include more other fruits than apricot (mostly pumpkin) and are sweetened beyond recognition. South African apricot jams is just apricots.
Apricot jam is used to balance curries and stews. It is used to glaze meat before going on the braai (especially fish, and particularly snoek). It is used to sweeten and brighten other pickles, preserves and chutneys. It is dehydrated and dusted with sugar to make jelly sweets (called mebos or fruit dainties in shops). It is used to sweeten baked desserts like malva and brandy pudding. Remember those koeksisters and koesisters we mentioned earlier? Apricot jam is often included in the syrup they're coated with. You can also buy hertzoggies, which are tart shells filled with apricot jam and then topped with coconut meringue. In fact, you will find many tarts lined with apricot jam. 
If none of this sounds appealing to you, you don't have to dive right into the proverbial apricot-jam deep end. You can simply buy a jar of locally-made apricot jam, and enjoy it on toast, just for the experience of what appears to be the only real apricot jam in the world. 
Here at LAL, your journey won't only be about learning English. You will also be here as a traveller ready for new experiences. Eating local foods is one of the best ways to get to know a country and its culture, and will give you plenty of opportunities to practise your new English skills along the way. To find out more about the English courses we have available in Cape town, click here.