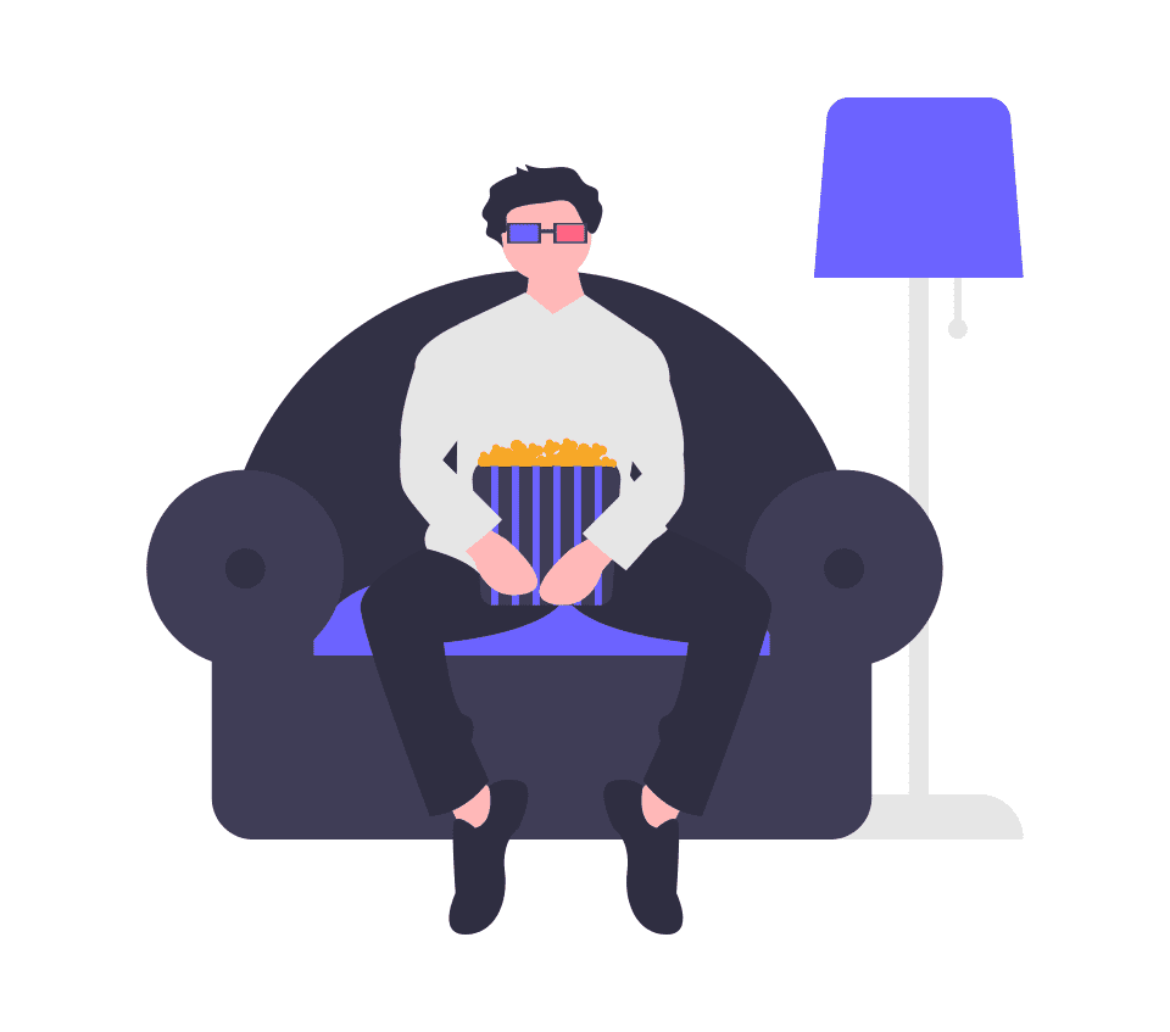 Learn English with movies, Learning a new language, or even just staying on the proverbial ball, can sometimes be quite tedious. You sit in front of your heap of vocabulary with some grammar topping, but the language expert feeling may not really set in.
Above all, it helps to deal with the language as intensively as possible. A language trip has several advantages: You are surrounded by the respective language all day long and cannot avoid using the foreign language – whether on the go, while shopping, in the accommodation or during small talk with other language travelers. The formal language framework is then provided by the language lessons by professional and committed teachers. And by the way, you will get to know the culture and the sights of the area.
Unfortunately, a stay abroad does not always fit into the current life planning. Be it that the vacation days have already gone for the visit to grandma (have you ever thought of educational leave?), the holiday fund has been emptied or that global events put a spanner in the works.
In order not to rust completely in foreign languages, there are of course several options. Watching movies in the original version for a change is certainly one of the best of them. Films often convey a very authentic use of language and are therefore ideal for improving the language skills already acquired.
To help you find the perfect OV pleasure, we have created a list of ten English-language films that will help you learn English in a fun way and become a (almost) language professional.
So get to the microwave popcorn and off you go:
1. 2001: A Space Odyssey
The perfect film for all those who want to slowly approach the original versions. Stanley Kubrick's masterpiece from 1968 focuses primarily on visual effects and music, but spoken is rather rare: ideal for getting started.
And for all fans of cinematic extravagance: In 2018, the film was released in 4K HDR on Blu-ray for the 50th anniversary. So the film is even more bombastic. But the original is also impressive, after all, it received the Oscar for best visual effects in 1969.
2. Kung Fu Panda
Basically, family films are always well suited for those who have not yet reached the professional level in English. Plot and dialogue are kept simpler here and the dialects are usually not so pronounced: Perfect conditions if your vocabulary is still a bit shaky.
Watching the chubby panda master the martial art of Kung Fu is definitely a super fun way to learn English. And in the original version there was no stinginess with stars: Angelina Jolie, Jackie Chan, Jack Black, Dustin Hoffmann, Seth Rogen and Lucy Liu are just some of the original speakers you can look forward to here.
3. Pride & Prejudice
Clear pronunciation, decent English and a mostly well-known plot make Pride & Prejudice a top candidate for our "Learn English with Movies" list. And the film is just wonderfully British. Filming was not done in the studio, but at locations all over England. So England fans get their money's worth.
This refers to the 2005 version with Keira Knightley and Matthew Macfadyen. But if you would like to bring some variety into everyday film life, you can also try the version from 1940.
4. The King's Speech
Admittedly, a fairly obvious choice. A film about King George VI and his language problems is predestined for a list of the ten best films to learn English. But it's also really fun to watch speech therapist Lionel Logue try to stutter the poor king.
Winner of several Oscars, The King's Speech is a perfect film to take on the pitfalls of English pronunciation alongside Colin Firth and Geoffrey Rush. In addition, the film is based on true events, so you get an English and a history lesson in one.
5. Brave
Or "Scottish for beginners"… Normally, the Scottish dialect would not necessarily be a hot tip for English beginners and improvers. But Brave, or Merida, as the film is called on German, can also be seen in the original – the Scots have really made an effort here.
And a warlike princess, who is much more enthusiastic about her bow and arrow than about the potential husbands, promises entertainment in any case.
But if the whole thing is about Disney/Pixar, here is a pro tip: The film Dear Frankie with Gerard Butler and Emily Mortimer comes up with the best Scottish dialect and has received two BAFTA Scotland awards. In a short and crisp 100 minutes, the story of a deaf boy and his single mother is told here. The subtitles (but please in English!) help to get over the hard-to-understand passages.
6. James Bond
Well, "Bond, James Bond" is always cool, whether in German or in English. But the most famous agent of the British secret service deserves to be heard in the original. So grab your favorite Bond and make yourself comfortable on the couch with your favorite drink – shaken, not stirred. It's best to choose one of the original Englishmen: Sean Connery, Roger Moore, Timothy Dalton or Daniel Craig. Still too much choice? How about Quantum of Solace, the only Bond film by a German director (Marc Forster – not to be confused with baseball cap singer Mark Forster).
Internationally, as always, Quantum of Solace takes you from your couch to Italy, the Atacama Desert and Haiti – and as stylish as only a James Bond can.
7. MIB International
And speaking of international realms: The latest part of the Men in Black series is leaving New York and is also – as the name suggests – entering international waters. Agent M travels from New York City to London to help British agents High T and H with a case. Of course, well-known MIB faces are also represented: Agent O and Frank the pug are back in the game. You now have a salad of letters in your head? How about a whole Men in Black Marathon?
MIB International ist vielleicht nicht der beste Teil der Reihe, aber unterhaltsam ist es allemal, M und H bei der Alien-Jagd zuzuschauen. Und so kommst du auch ganz nebenbei in den Genuss von britischem und amerikanischem Englisch Seite an Seite.
8. Arrival
Was bietet sich besser an zum Englisch lernen als ein Film über die Schwierigkeiten, eine unbekannte Sprache zu entschlüsseln? Ja, okay, um Aliens geht es auch, aber das ist erst einmal nebensächlich. Die Sprache der Aliens wurde mit Hilfe von drei Sprachwissenschaftlern entwickelt. Im Film haben dann Jeremy Renner und Amy Adams die Aufgabe, das komplexe System zu entschlüsseln um einen Krieg zu verhindern.
Dagegen klingt das Englisch lernen auf der Couch doch ganz entspannt, oder? Also nichts wie rein in das Sci-Fi Vergnügen und Sprach-Abenteuer.
9. Bridge of Spies
Dieser Spionage-Thriller von Steven Spielberg basiert auf wahren Ereignissen und wurde unter anderem auch an Originalschauplätzen in Berlin gedreht – so auch an der Glienicker Brücke zwischen Potsdam und Berlin. Sie wurde während des Kalten Krieges so häufig für den gegenseitigen Austausch von Spionen genutzt, dass sie den Spitznamen "Bridge of Spies" bekam.
In addition to the exciting story, in the original version you will also get the pleasure of hearing Tom Hanks talk a few chunks German. It is reassuring to know that, on the other hand, native English speakers with German also have such a serious need.
10. Casablanca
Sure, no movie list without classics. But why Casablanca? Because "Here's looking at you, kid" was translated with the much more boring "Look me in the eyes, little one". The film is full of now iconic sayings and one-liners, which you should definitely take to heart in the original version. In addition, Casablanca appears in almost every best-of film list – there must be something to it.
And another little tip for black and white muffles: There is also a color version of Casablanca. In the 80s, some black and white classics were recolored – with more or less aesthetic success. So if black and white is no good for you, then you can dare to do it.
We didn't really meet your taste in film? You already know all the movies? Or are you simply looking for more inspiration? Then take a look at the Internet Movie Database. In addition to the normal best of lists sorted by editorial and user rating, you will also find all sorts of interesting lists from other users on IMDb, such as Movie Titles That Are Song Titles, The Most Overrated Movies of the 2010s or Incredibly Strange Films. In any case, you will find the right films to learn English.